Team
We at Kaaryaa are a team of individuals with varied skills and experiences from Information Technology, Marketing, Management and Communication industry. We are a team of young entrepreneurs working towards a collective goal of developing new products and services. We offer diverse range of creative skills and strategies to design and develop the most optimal solutions to our customers. We are a small but growing team of committed and motivated people who are continuously engaged in creating the best possible products and services.
Our team is integral to the success of our company. And, we believe that ideas are created by teams, and not individuals. We challenge ourselves on a daily basis to support each other. Kaaryaa's dedicated team works on building ideas and converting it into products and services to satisfy the business needs of our clients. Kaaryaa was founded with a progressive vision to build the innovative products to serve the industry in the best way. In 2012, two self-made entrepreneurs started Kaaryaa with a vision to create a lab for incubating ideas and transforming them into a product. Our ultimate goal is to create the products and services that reach the masses. We are focused on building great ideas and bringing enterprise solutions for our customers.
Founders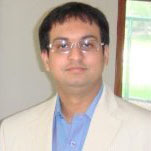 Rupesh Desai
Rupesh Desai is the guiding force behind Kaaryaa and is responsible for its growth and success since its inception. Rupesh has diverse experience in event management, digital marketing and technology. His diverse experience also includes his contribution to BSNL, a leading telecom provider in India, Critical Mass, a digital marketing agency in United States and Aon Corporation. Several years of experience has made Rupesh lead Kaaryaa in the most successful way. We believe that with his high standard of work we will walk smoothly towards the journey of meeting our business goals and objectives.

Prashant Chaudhary
Since our formation, Prashant has helped us drive strategic ideas into business results. He is true technologist and is an expert across the technology domain. He is deeply interested in finding ways to solve the most complex problems with the simplest solution possible. His technical experience includes his tenure with ProTans, a supply-chain and logistic company where he developed multiple business programs for warehouse management, supply management, distribution and load management, shipping brokerage and load consolidation. He has helped us in all the ways in the past year and has helped us achieve what we aspired and under his leadership we hope to continue achieving our business goals.